New channel! Personalized cloud news via Slack
Our new app for Slack gives you a personalized (custom filtered) feed of relevant AWS news so you can increase your expertise by efficiently keeping up with the cloud's rapid pace of change.
You get only what you want, and when you want it.
Smart reading lists help you keep track of important announcements and blogs so that you can read them on your schedule and not miss out on important information.
Read more
Our passion
Developing for AWS is and should be empowering and fun.
Paradoxically, the breadth of AWS capabilities that gives us developers super powers comes with a constant deluge of information. This is stressful and a time sink as we try to keep up and remain productive experts. We all worry that we're missing vital information and not making the most of what's available.
We want to help you stay in control and conquer information overload, so we all can keep AWS fun and feel more like dancing in a sprinkler on a hot summer day and less like being blasted with a firehose.
Take control, reduce stress
Keeping up can be stressful and time consuming. We provide tools and personalizion that let you control what information is important to you, and how and when you want to see it.
Save time
All AWS service-related information is instantly accessible in a couple of clicks. No longer does every question have to be a web search.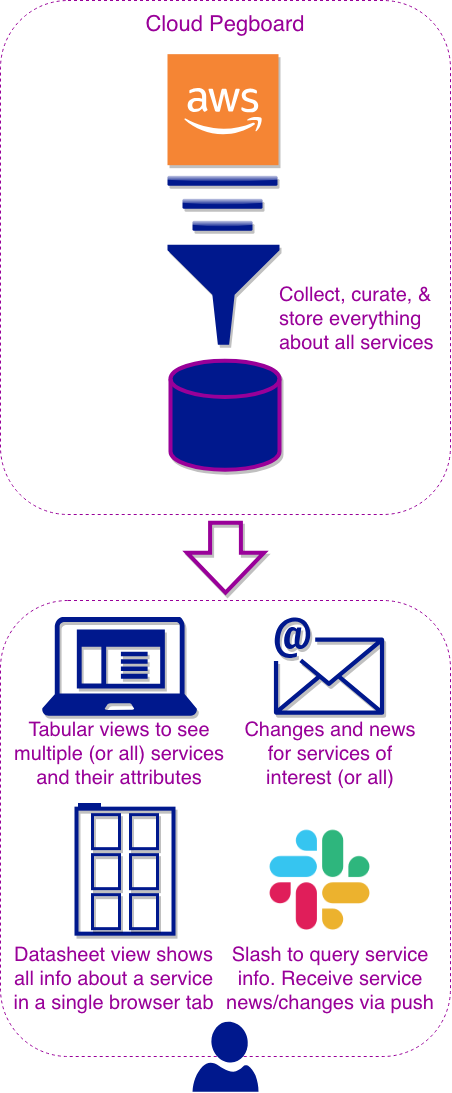 Filter out noise
Our UI for looking up information is designed to show you exactly the information you need and no more. Similarly, email update notifications are filtered to your specific interests.
Never miss important information
We present information in a way that allows you to focus on what's relevant to you and not miss important service news.
---
Accelerating development
With Cloud Pegboard you can...
Find information fast
Use our web portal to instantly access everything there is to know about each AWS service.
By organizing by service, we efficiently provide you with information the way you use it.
Dozens of attributes include development reference information (including direct links to service-specific sections of CloudFormation, Boto3, Terraform, and other technical documentation), technical attributes (e.g., support status for VPC, encryption at rest, etc.), region coverage, compliance coverage, recent announcements, tips & tricks, and more.
Track service changes
Stay up to date with service changes and additions personalized for your needs.
You can pick which services are relevant to you and receive daily or weekly updates of changes just for those services.
This includes data from many different sources, all consolidated into a single feed, drastically reducing the range of sources you need to monitor to keep up.
Focus on what's relevant to you
Everything that we do is based on personalizing the data you see based on your needs. Views and updates are based on lists of services that you define.
Make better decisions
Avoid costly refactorings by making more informed service comparisons and selections.
---
Sign up free
Individual user
FREE!
Daily/weekly personalized service update notices, detailed catalog of all AWS services and tools, datasheets for each service, re:Invent session planning catalog, re:Invent video catalog.
SIGN UP
Enterprise plan
Contact us
Enterprise accounts have extended features such as private service attributes, Slack, JIRA, and API integrations, SSO, and Power User features for your entire organization.
Contact Us
---
Supercharge your AWS console
Our free browser extensions integrate with Cloud Pegboard to improve your AWS console experience. Personalized shortcuts bars, more efficient regions menus, environment flagging, direct access to service datasheets and more.
Full details and screenshots.
Free browser extensions
---
AWS re:Invent planning
Get the most out of re:Invent with better planning. Details
Streamlined session mining
Our super session catalog lets you be more effective and faster at mining for sessions.
The 2019 catalog has over 3800 sessions. By filtering repeats until you need to schedule, and by providing a user-friendly and efficient fully loaded (no paging) table view, you can find your interests faster.
You can also create a wishlist and even export it to a spreadsheet to make control of the planning process by sorting by date and comparing options for each time slot.
Session videos
Quickly find relevant session videos to get value from re:Invent after conference is over or if you don't attend.
Track dynamic additions
AWS adds sessions daily all the way up to and through the conference. Sessions for services announced at re:Invent do not appear until the announcement.
Cloud Pegboard tracks these additions and lets you find sessions by date added so that you can review all changes since you last looked. Moreover, you can get updates via our daily or weekly email digests.
During re:Invent, you are able to get real-time updates so that you can be the among the first to know about additions.
Add sessions to your calendar
No longer do you have to use the re:Invent app calendar or manually add all of your sessions to your personal calendar. With our super session catalog, you can download an iCal file for any session to directly add it to your calendar.
You can also bulk export your wishlist to a format that can be directly imported to a Google Calendar.
Find sessions by service
Many engineers are interested in a specific set of services. Cloud Pegboard service datasheets list the re:Invent sessions that are relevant to the respective service. This makes it much easier to find relevant sessions when you are looking for sessions based on a particular service.
---
Demos and videos
Developer view quick demo


Slack integration - quick demo


Cloud Information Overload Survival Guide - re:Invent 2019
---
---